Frequently Asked Questions
Xometry is a leading AI-enabled marketplace for on-demand manufacturing, transforming one of the largest industries in the world. Xometry empowers the industries of today and tomorrow by connecting the people with big ideas to the manufacturers who can bring them to life.
Xometry's digital marketplace gives manufacturers the critical resources they need to grow their business while also making it easy for engineers and purchasers at small and large enterprise companies to tap into global manufacturing capacity and create resilient supply chains.
Who are the people behind Xometry?
Although our trademark is an AI-generated instant quotation tool, Xometry's strength lies in its large team of engineers, production managers, account managers, quality controllers and many others. The Xometry Türkiye team is spread across the four corners of the continent, its official headquarters being in Istanbul, Türkiye.
Our teammates are Xometry's most important asset. The powerful combination of their unique knowledge and abilities drives our company and its marketplace. We embrace both independent thought and teamwork to tackle tough problems, empowering our team to find the best solutions.

Xometry has a team of manufacturing specialists in-house to help you with your manufacturing projects. Xometry also has in-house manufacturing specialists to help customers source suppliers for projects with special requirements and manage suppliers through the manufacturing and delivery process.
What industries does Xometry Türkiye serve?
We provide manufacturing services for all industries that require metal and polymer custom and serial production parts, amongst which:
The diversity of our services allows us to meet most of your requirements, whatever the application.
Which companies are using Xometry Türkiye services?
Xometry's customers range from self-funded startups to Fortune 100 companies. Over 40,000 engineers and purchasing leaders from companies like BMW, General Electrics, Dell and Bosch trust our services. Learn more about Xometry's customers' success stories.
Why should I order from Xometry?
Xometry helps you a considerable amount of project time thanks to a powerful combination of the AI-powered Xometry Instant Quoting Engine®, a massive production network and a dedicated team available at any time during the conception and production processes.
As a customer, you can choose your part's specifications amongst 10+ technologies, 50+ materials and 20+ finishing options, and get free quotes within a few minutes. Xometry takes care of the rest, from the DFM feedback to the delivery of your parts.
Will my interlocutor be speaking my language?
Our international team speaks different languages and we do our best to serve our customers in their local languages whenever it is possible.
Here is a list of all languages spoken at Xometry Türkiye:
How does Xometry Türkiye protect customers' intellectual property?
We take your intellectual property very seriously. Every drawing, sketch or picture you upload to our system is kept completely secure. We use state-of-the-art security algorithms. Traffic at our website is secured by the SHA-256 algorithm with RSA encryption.
Once your order is placed, only the provider who actually manufactures your part has access to the part drawing. All workshops in our network are under contract to protect your IP. If you require a special non-disclosure agreement, please request it from your dedicated account manager.
Can Xometry Türkiye provide me with an NDA?
Yes. There are two ways for the customer and Xometry to work with a Non-Disclosure Agreement (NDA): 
The customer's company already has an NDA. The NDA is to be reviewed and signed by Xometry and the customer

The customer's company doesn't have an NDA, in which case Xometry can provide its own NDA. The NDA is then to be reviewed and signed by both parties
Does Xometry have any fees or subscriptions?
Xometry.com.tr and its CAD add-ins are free to use to get online quotes. The quoted price you see is what you pay, and there are no recurring charges for using Xometry's services!
Can I order a part with you if I do not represent a company?
Yes. Our instant quoting functions are available for private customers without limitations. You can always get instant quotes with standard quote configuration: 
Manufacturing process: CNC machining, sheet metal fabrication or 3D printing

File formats: STEP, STP, SLDPRT, STL, SAT, 3DXML, 3MF, PRT, IPT, CATPART, X_T, PTC, X_B + DXF (for sheet cutting)

Standard material and finishing: Hundreds of combinations available in the Instant Quoting Engine
However, there are some cases when a manual project review by our engineers or placing team is needed. It is only available for corporate accounts, so individual customers cannot perform the following actions: 
Quote 2D drawings. Technical drawings can't be instantly quoted by the Instant Quoting Engine and require a manual review. 

Request custom features for your parts. 
Please note that since you won't have a corporate account, you will have to pre-pay all your orders.
How does Xometry Türkiye handle complaints or claims?
When a customer reports a complaint or a claim, the Xometry Production Team handles the case and starts investigating. A case engineer specialising in the manufacturing process with which the part was produced will examine the case together with our QC engineers to determine the issue. Once the case is examined, Xometry offers a viable solution to the customer.
Overall, Xometry targets to build long-term relationships with our customers and is set to find solutions for each claim or issue with our customers' orders.
What manufacturing technologies does Xometry offer?
We offer over 10 manufacturing processes:
For any custom requests, reach out to your assigned sales representative or contact us at info@xometry.com.tr.
Is there a guide to help select the appropriate manufacturing process?
In what materials can you make parts?
Xometry Türkiye offers a wide selection of over 50 common metals and plastics as well as custom and rare materials. In the Instant Quoting Engine, you can choose material from the list or type the name of the custom material your project requires.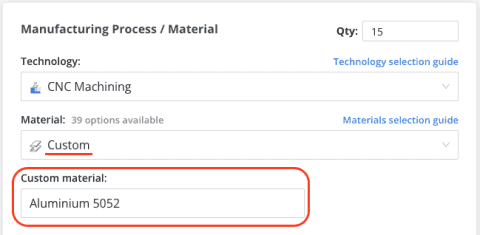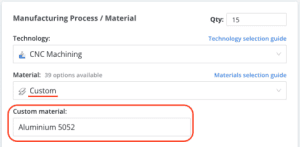 How can Xometry Türkiye offer a better lead time than my local supplier?
Xometry has built a manufacturing network of over 10,000 manufacturing partners globally. In addition to it, we use advanced IT technologies that allow us to efficiently manage our manufacturing network and place production jobs. Such a scale and the use of modern technologies allow us to always offer reasonable lead times that are competitive with conventional ways of sourcing parts.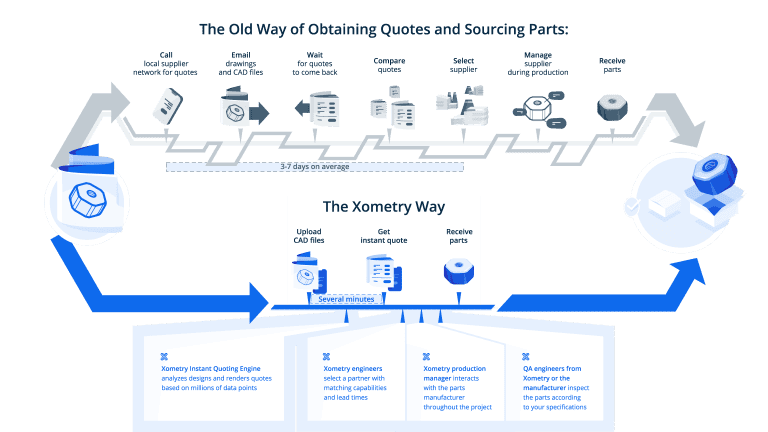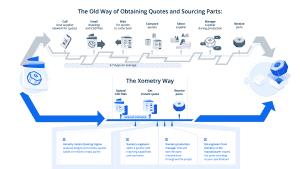 Does Xometry Türkiye manufacture my parts?
Xometry does not own its own workshops, but we do have a massive manufacturing network worldwide with over 10,000 partners, amongst which more than 2,000 are located in Türkiye and Europe only. Xometry consolidates the supply chain by having a single storefront for multiple manufacturing options, while also mitigating any risk associated with sourcing through its 10,000+ manufacturer marketplace.
The parts you order are sent through Xometry's Manufacturing Partner Network. This is a vetted network of professional manufacturers from job shops to serialized production facilities. Xometry uses its AI-driven technology to pair projects with those manufacturers best suited to produce the parts on time and to your requirements.
Where will my parts be manufactured?
Once you place an order in the Instant Quoting Engine, we will find the most optimal partner to manufacture your parts. Optimal partners are workshops with the right capabilities and availability for your project, who can start working on your order immediately. These workshops are located all over Türkiye, but also in Europe and China.
In case of repeated orders, we ensure that the batches of parts will be manufactured by the same provider, subject to the availability of the latter.
Can Xometry Türkiye do serial production of parts?
Yes. Xometry is a production powerhouse with a global network capacity of 10,000+ facilities, 2,000+ of which are located in Türkiye and in Europe. We're ready to take on jobs of any size, from a single part to one million parts, for CNC machining, sheet metal fabrication, injection moulding, urethane casting and 3D printing. 
Our strength lies in our ability to allocate orders according to the capacities and availability of our massive network of suppliers. We ensure affordability, quality of manufacturing and quality of service. We also provide account management, in-house engineering support, and in-house quality control teams working for our customers. 
Learn more about our high-volume manufacturing capacities.
Materials & Specifications
Is there an overview of the tolerance ranges across different processes/materials?
We work with both custom and general tolerances: ISO 2768 (fine, medium) and ISO 286 (Grades 8, 7, 6) for CNC machining and sheet metal fabrication.
Even though there are no international standards on tolerances for 3D printing, tolerances play a key role in the final dimensions of the part. In 3D printing, the major factors influencing the tolerances are material shrinkage (change in volume from a change in state from liquid to solid), layer thickness minimum feature size and build size (maximum size of the part to be printed, depending on the technology).
As far as formative technologies are concerned, we work according to the following standards: DIN 16742 for injection moulding. As for vacuum casting, a standard ±0.5 mm is usually applied. Tighter tolerances are upon request.
How does the Instant Quoting Engine work?
For detailed instructions about how to get an instant quote with price and lead time, watch this YouTube video tutorial and/or read our article on this topic.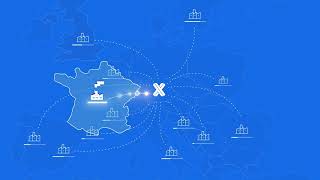 How long do I have to wait to get a quote?
Our Instant Quoting Engine provides quotes with price and delivery time within a few seconds for CNC machining, sheet metal fabrication and 3D printing quotes. For injection moulding, die casting, vacuum casting and compression moulding projects, you can request a manual quote. These are usually provided within 24-48 hours. Manual quotes are available for corporate customers only.
What if I'm not satisfied with the AI-generated instant quote?
If you are not satisfied with the given price, you can always reach out to your sales representative to discuss the quotes generated by the Instant Quoting Engine.
Can I use Xometry with SOLIDWORKS and Autodesk Fusion 360?
Yes, the Xometry add-in is available for both Autodesk Fusion 360 and SOLIWORKS to bring you instant pricing, lead times, and design-for-manufacturing feedback directly in your design environment.
*Xometry Türkiye's CAD-Inns will be activated very soon.
What are my payment options?
We accept payments by credit cards, invoices (bank transfer) and others.
Where can I find information about the delivery time?
Our Instant Quoting Engine provides quotes with price and delivery time within a few seconds for CNC machining, sheet metal fabrication and 3D printing quotes. For injection moulding, die casting, vacuum casting and compression moulding projects, you can request a manual quote. These are usually provided within 24-48 hours. Manual quotes are available for corporate customers only.
What file types does Xometry accept?
The Xometry Instant Quoting Engine can automatically quote thousands of different shapes, features, and configurations! To do it needs a suitable file type: 
If the computational geometry algorithms of the Instant Quoting Engine can analyze your part geometry, it will be able to give you an instant quote.

If the algorithms cannot analyze your design, the line item quantity or value is high, or you added custom features, your part will require additional review by our engineers.
File types & requirements for getting instant quotes
Our Instant Quoting Engine supports all popular CAD files (STEP, STP,  SLDPRT, STL,  IPT, 3DXML, CATPART, PTC, PRT, SAT and DXF). You can also submit PDF files for technical drawings or quotes for formative manufacturing technologies.
Solid/Parasolid file types like STEP, SLDPRT, IPT, PRT and SAT can quote in any process.

Mesh-based formats like STL, 3MF, and 3DXML can quote 3D printing services. 

2D X_B and DXF files are specific to sheet cutting services.

Model-Based Definition (MBD) or Part Modeling Information (PMI) is not supported at this time and should be captured with an attached technical drawing on the quote.

Upper-level assembly files can be uploaded in an STP format but will require individual part files uploaded for quoting. Native CAD assembly files like SLDASM and IAM do not have solid model information and will not load on Xometry's platform.

Please remove or suppress any multi-body features, such as installed inserts, before uploading part models.
File types for that can be quoted manually
If you only have technical drawings you can also upload them to the Instant Quoting Engine. In this case, you can configure the project requirements, specifying all necessary parameters – quantities, materials, finishing options etc. – and request a manual quote. File types that the platform supports: DWS, DWF, DWG, PDF.
Please note that without a 3D model, the system won't be able to deliver an automatic quote. Photos, hand drawings and other files that are not 3D files will not be automatically quoted.
I need to reverse-engineer a legacy part. Can Xometry draw a CAD file for me according to my specifications?
No, we don't provide CAD drafting services.
Quality Assurance & Control
How do you control the quality of the parts?
Xometry utilises rigorous processes to ensure the highest manufacturing standards for your custom parts, inspecting dimensions and visual aspects both during and after production to deliver on-time and precisely tailored components. Xometry's quality management processes are ISO 9001 certified.
We ensure quality through:
Only working with the best suppliers on the market

A scoring system for our manufacturing partners

Clear QA instructions & standards for the manufacturing facilities

Our own QC lab & QC team for complex and critical parts

External QC labs
If you require quality control reports – please specify the certifications you need in your enquiry. Typically, the control procedures could be supported by material certificates, conformity certificates, and reports of inspections. Please make sure to specify the quality control procedures before placing the order – introducing them once the production has started is very difficult.
Does the manufacturer conduct quality control?
Yes, a standard quality control of the part is done onsite by the manufacturer. For each order, partners are required to take pictures of the parts and upload them to the platform before sending out the parcel. Parts can also be controlled by external QA labs in order to confirm specific properties (e.g. material composition, high accuracy dimensions, quality of welds, etc.) for an additional cost.
Can Xometry Türkiye provide quality documents and reports?
Yes. The following quality documents can be purchased for all our manufacturing technologies (CNC machining, sheet metal fabrication, 3D printing, injection moulding, die casting, vacuum casting and compression moulding):
CMM Inspection Report

Material Certificate (for metals only)

Standard Measurement Protocol

First Article Inspection Report (FAIR)

RoHS (Restriction of Hazardous Substances Directive)

REACH (Registration, Evaluation, Authorisation and Restriction of Chemicals)

Certificate of Conformance
How does Xometry select its manufacturing partners?
Our production partners are the key to ensuring the quality of our parts. That's why we apply a strict selection process to ensure that we only work with the best manufacturers on the market.
A scoring system for existing partners

:

Once in our network, manufacturers are closely monitored and rated as they fulfil production jobs. This scoring system affects the extent of our collaboration since a higher rating generally leads to more orders being placed. Our partners, therefore, carry out full quality control, as the quality of the parts they produce directly impacts their score.

A quality control procedure for new partners

: To join the Xometry Partner Network, a manufacturer had to prove it meets our standards and requirements with a test order. When a test order is delivered to our office from a partner, we control the packaging and check the order documents to ensure compliance with the order specs in our system. The test part is then checked by the Xometry Quality Assurance Lab (visual inspection, material inspection, dimensional measurement)
If there is an issue at any of these stages, the partner unfortunately cannot work with us. Only 35 % of all test orders successfully pass our quality control step.