Here's a detailed instruction about how you can get an instant quote with price and lead time, modify your quotations and place orders. Just follow these 10 simple steps.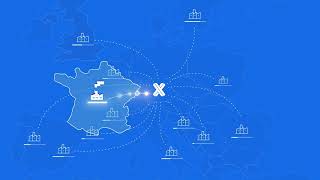 Step 1: Upload your designs on the platform
Go to the instant quoting platform at get.xometry.com.tr and upload your 2D or 3D models. You can either browse your files or drag and drop them in the drop zone on the right. The list of supported file formats is mentioned there as well. Note that you can upload multiple files at once.
After uploading your files, click Next to proceed to the next stage.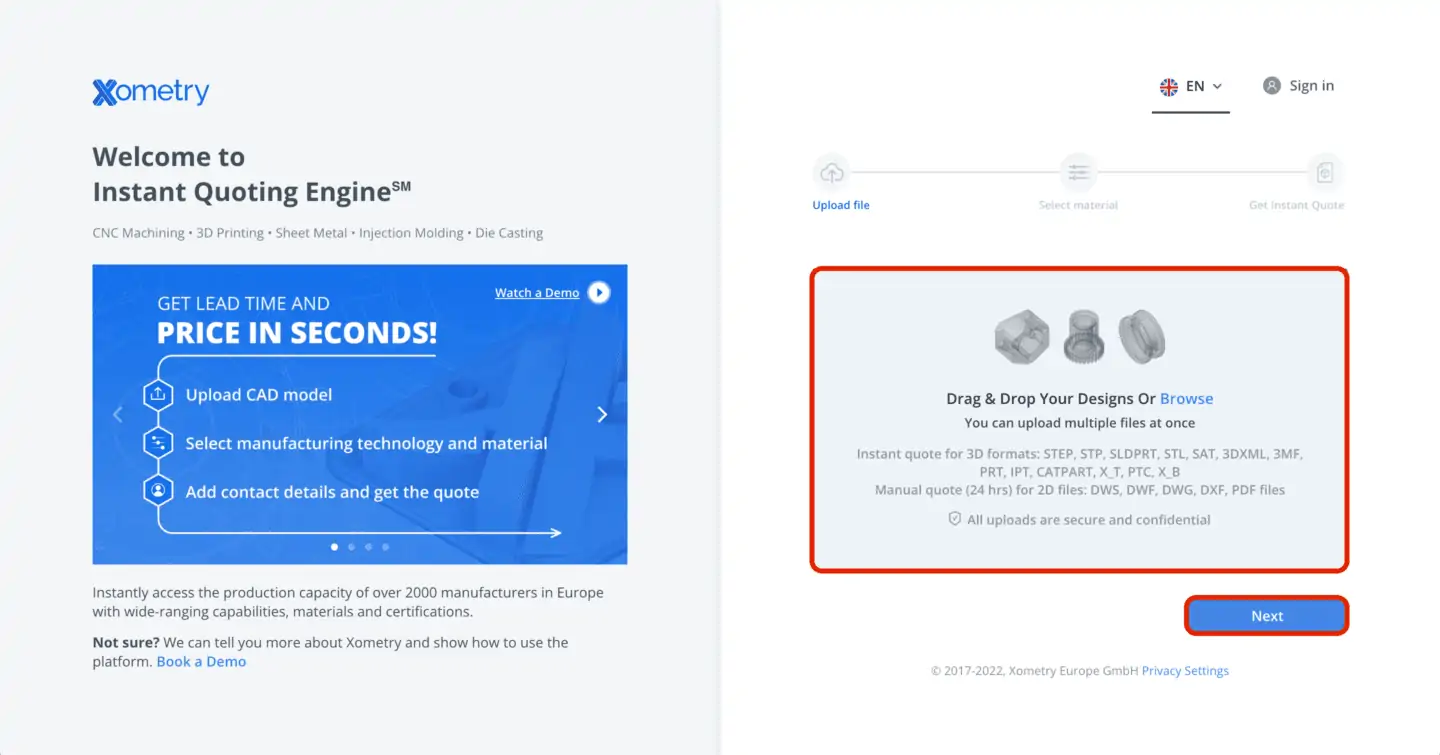 Step 2: Set up your manufacturing requirements
Select the required manufacturing process, material and part quantity (1). Note that at this stage, you can see only basic manufacturing options. More options will be accessible later on.
If you uploaded several models that have different requirements, don't worry about the current selection. You will be able to modify your preferences for each model separately in the next stages.
When you're all set up, click Next (2)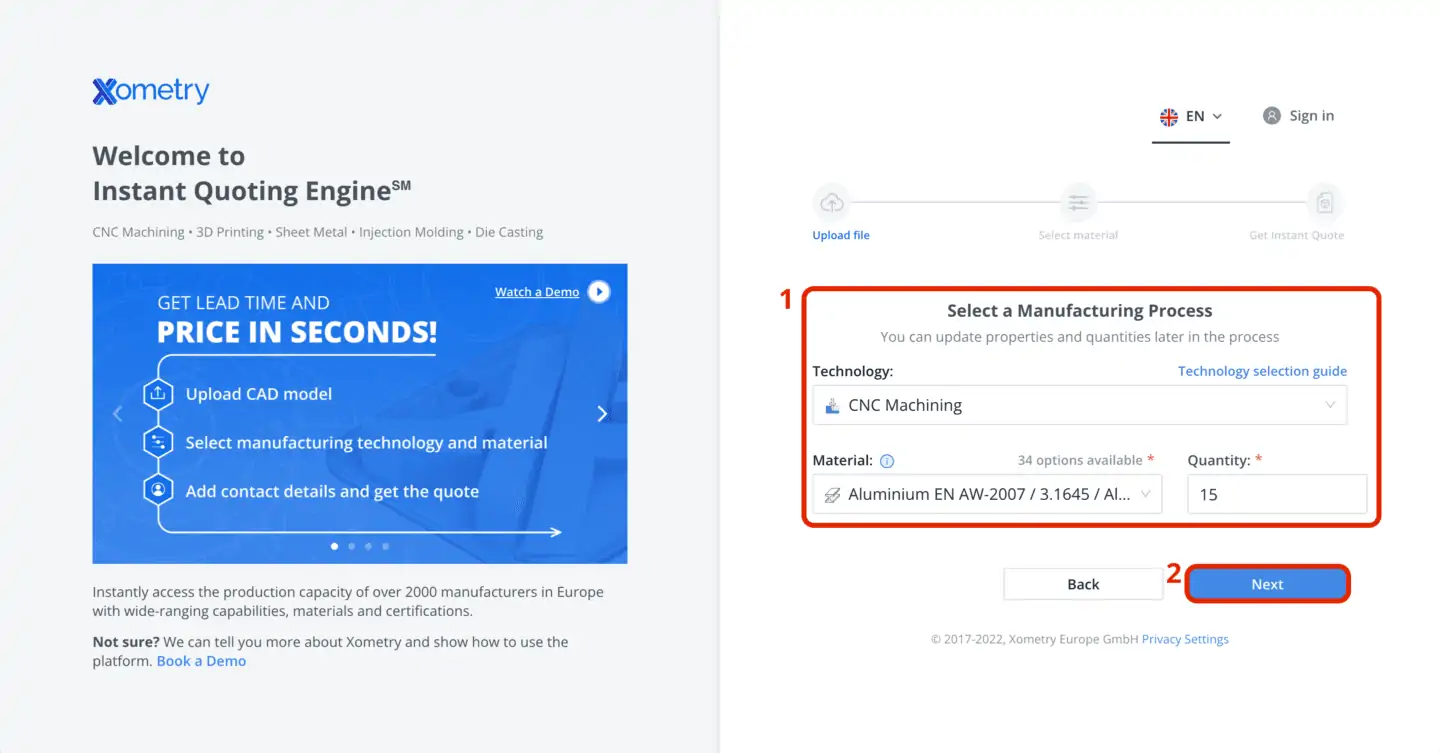 Step 3: Fill in your contact information
This step requires you to fill in your contact information (3). It will be used to communicate with you during the whole order, production and delivery process.
Please note that you need to agree to Xometry's Europe Terms and Conditions and Privacy Policy to proceed to the next step.
At this stage, you can also subscribe to our newsletter to receive the last updates, offers, discounts and engineering tips.
Once you're done, click Submit (4).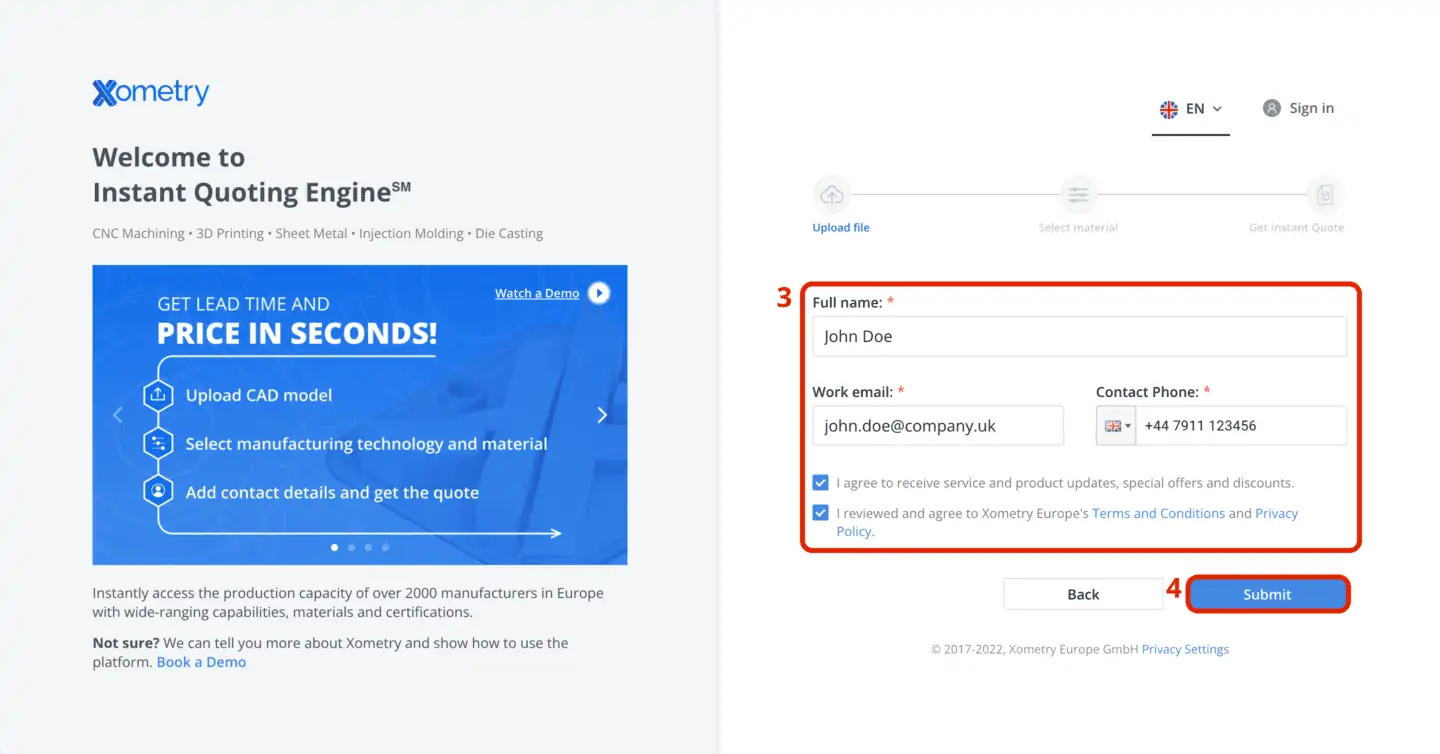 Step 4: Your quote page. Check cost estimation and lead times
Your uploaded models are then analysed individually along with the selected manufacturing processes. According to the size and complexity of your models, it takes from a few seconds to a minute to access your dashboard with the parts.
After the calculation is done, you see the quote page. A single quote can contain up to 25 parts. Each part is displayed in a box containing the part's name, its model, default manufacturing specifications, the overall value, and the delivery options. On this page, you can:
Change the required quantities for each part (5)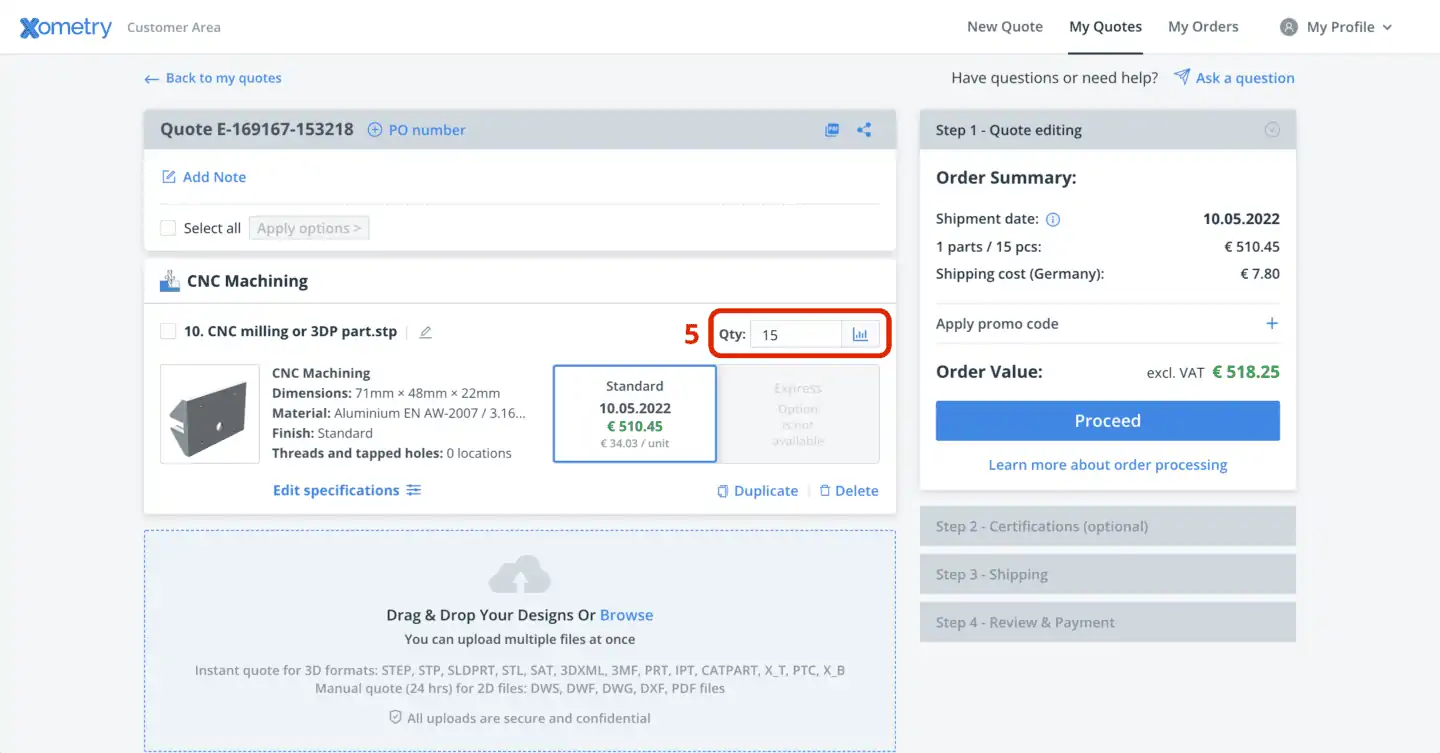 Rename your parts if needed (6)
Switch between standard and express delivery options if available (7)
Duplicate parts, if you need to order the same part but with different parameters, or delete some parts (8)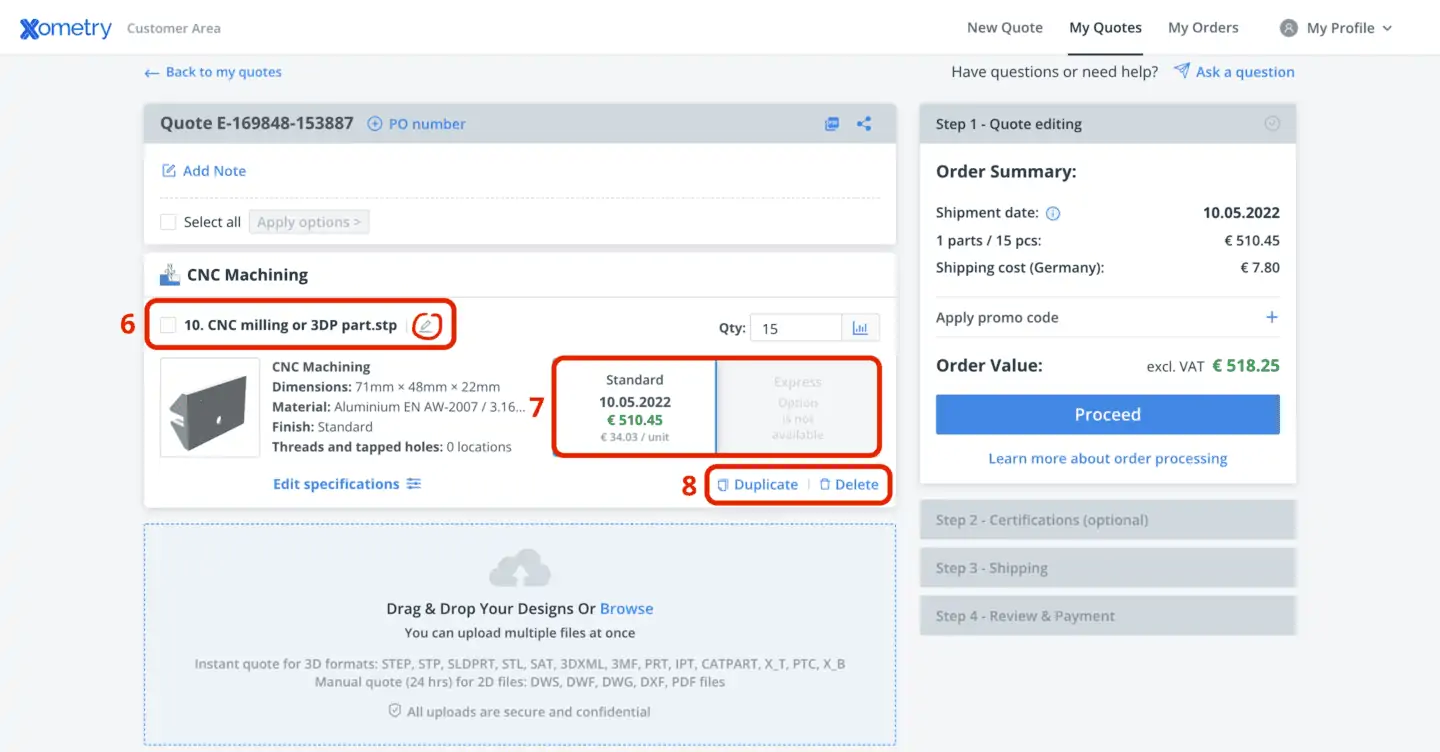 Upload more parts if needed (9)
See the summary for all parts in the quote (10)
Apply promo codes (11)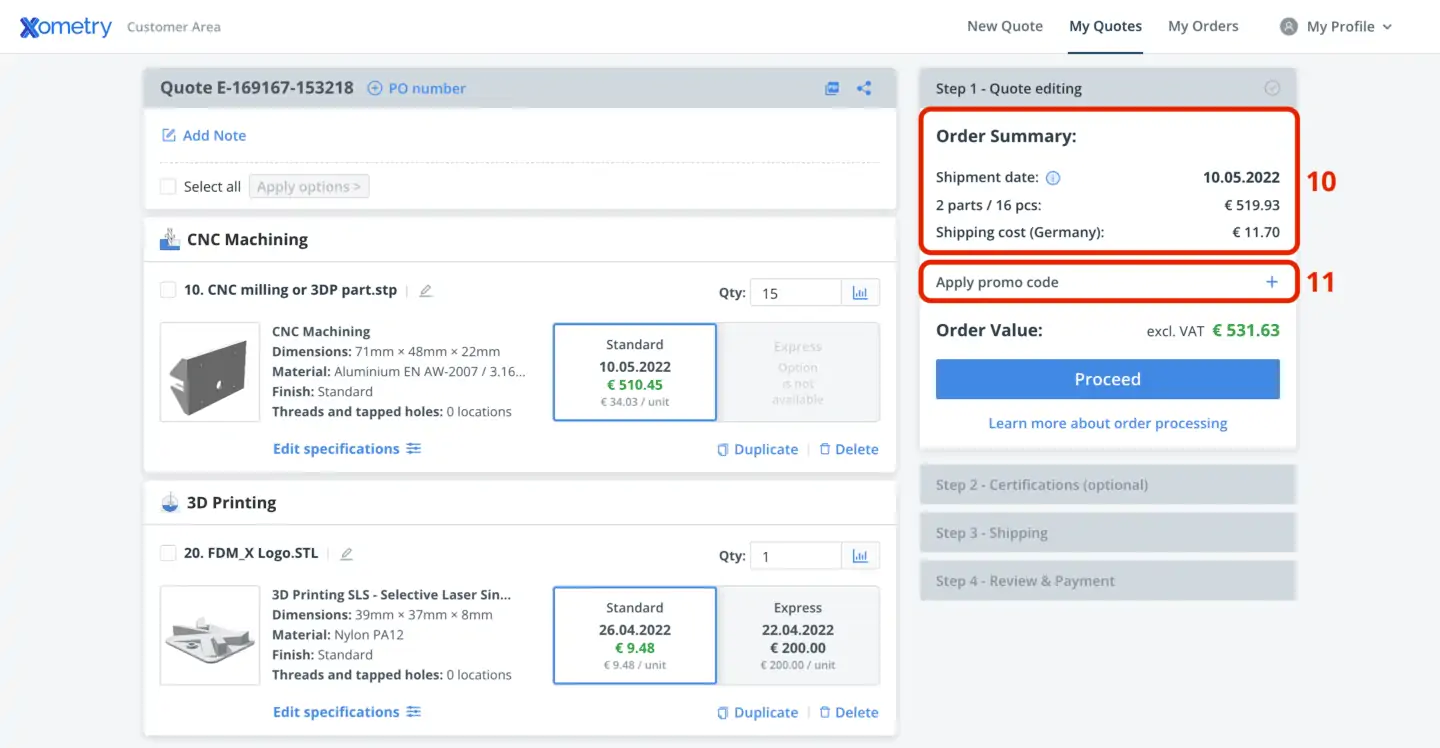 The most important at this stage – change the default parameters of your parts. To do so, click Edit specifications at the bottom of the part's box (12).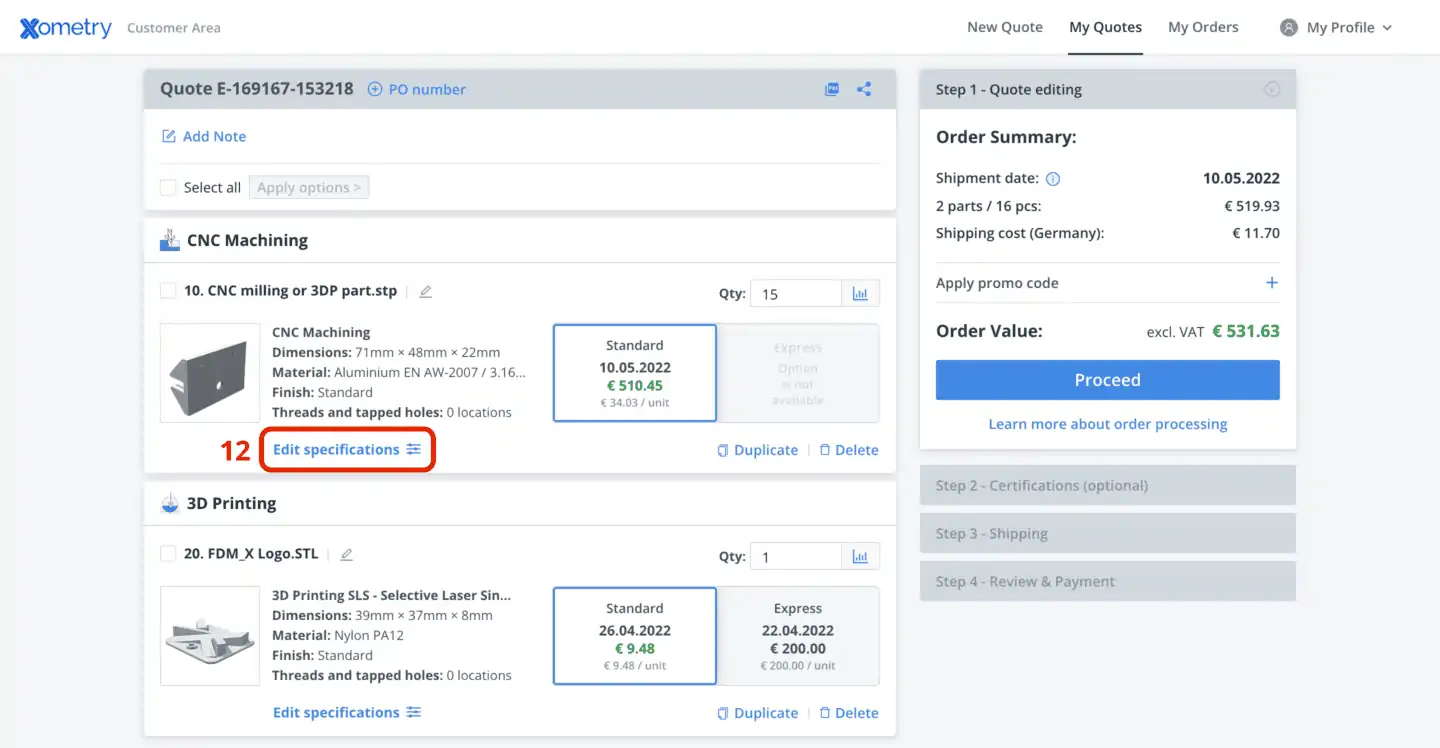 Step 5: Part page. Edit specifications
Here you can change various parameters. The part's price (13) will be updated automatically based on the changes you make.
Edit the manufacturing options:
Process, material, quantity, finishing, and required tolerance (14)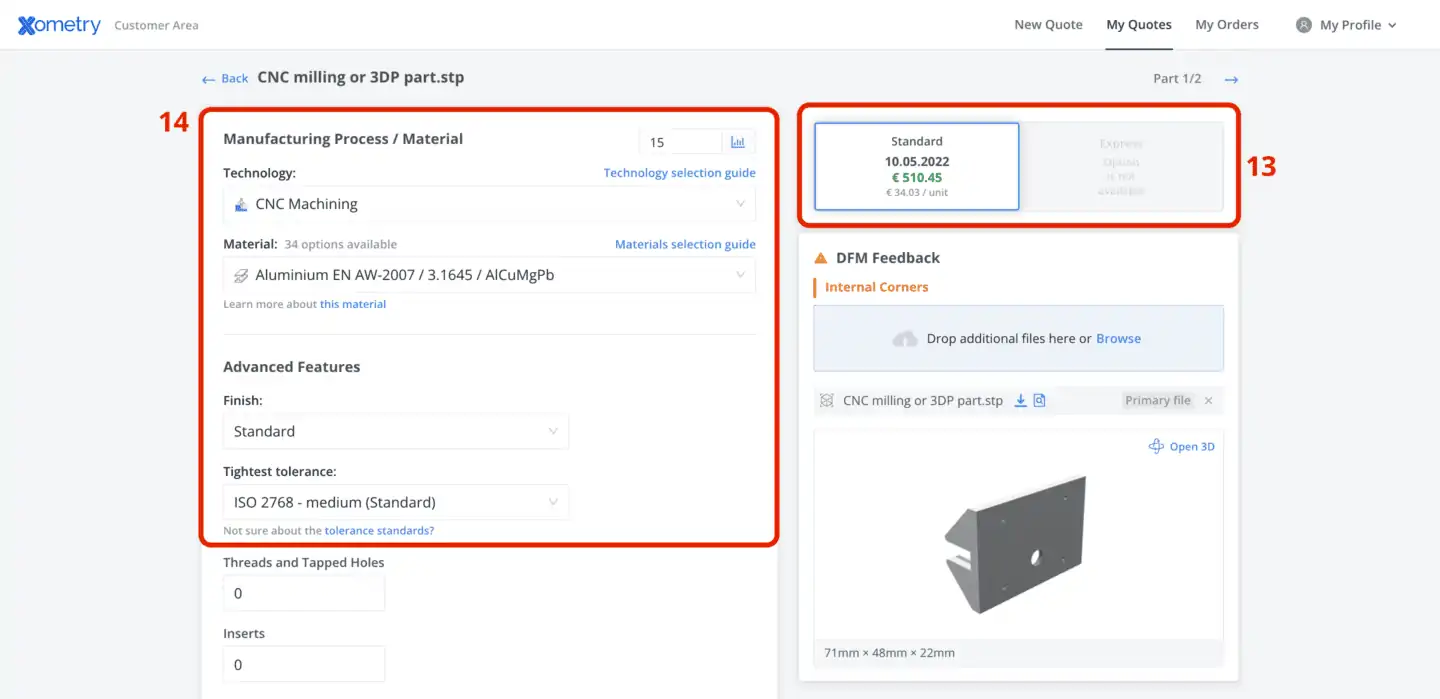 The number of threads, tapped holes and inserts in your part, as well as part marking (bag and tag, engraving or laser mark) (15). In case you specified these parameters, you'll need to upload an additional drawing to provide details for the manufacturer (16)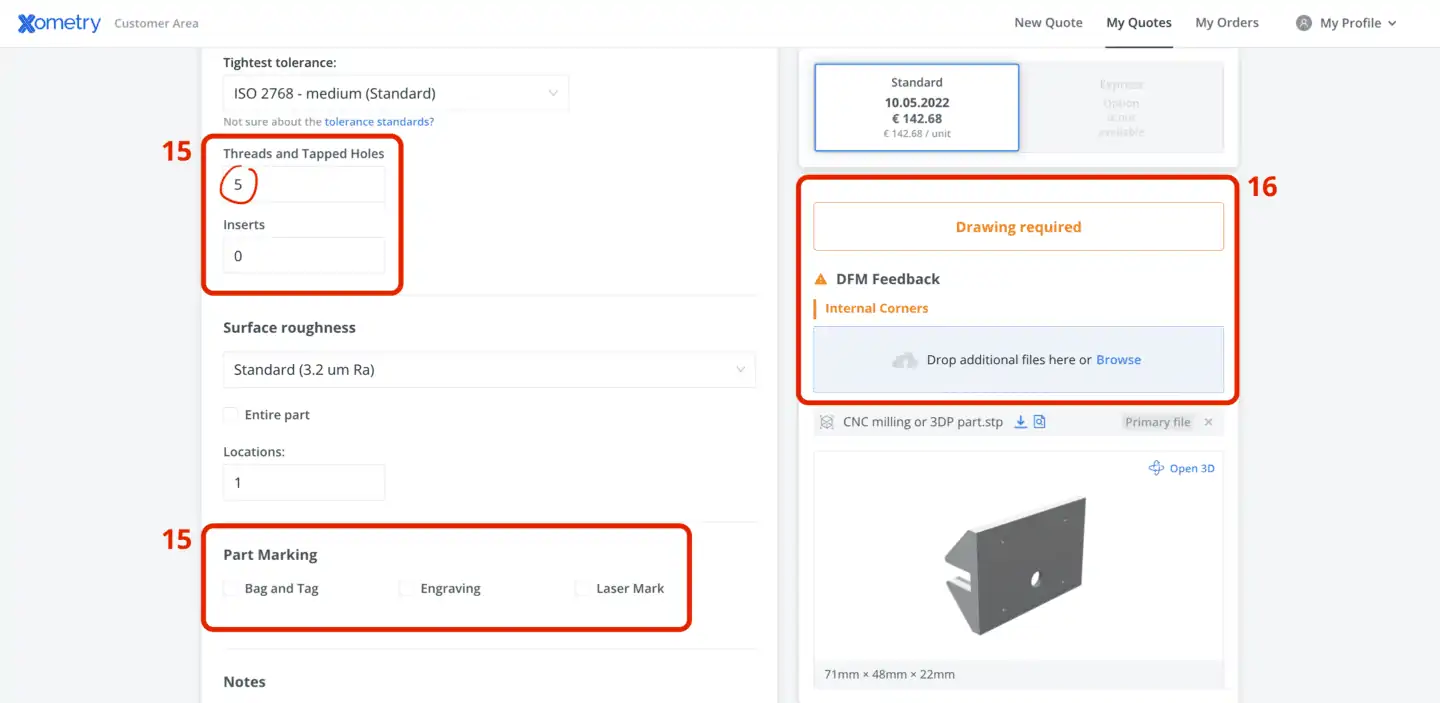 Add notes to the engineer or manufacturer if you have any special comments or requests (17).
Once you have edited the part's specifications, click Back to Quote (18).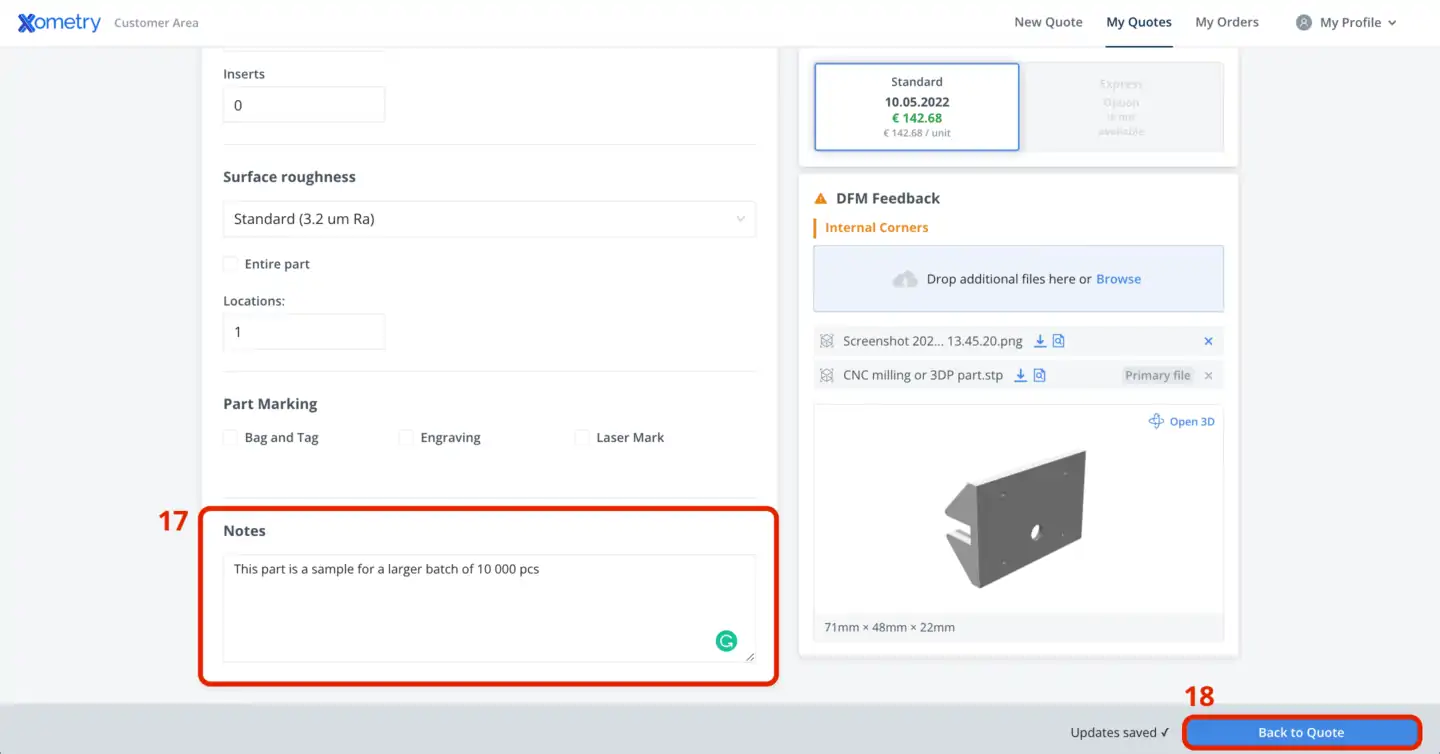 Step 6: Quote page. Confirm your order
The quote is automatically updated and reflects the changes made previously. If you have more than one part, just repeat the process described above for each model to get an overall quote.
Go through your order again and make sure everything is fine. Note that the price generated in your quote remains valid in an unconfirmed order for a maximum of 30 days.
Once you're ready to finalise the process, click Proceed (19).
A pop-up then appears, informing you about the next steps. Please note that once confirmed, your order cannot be modified. Next, click Proceed (20).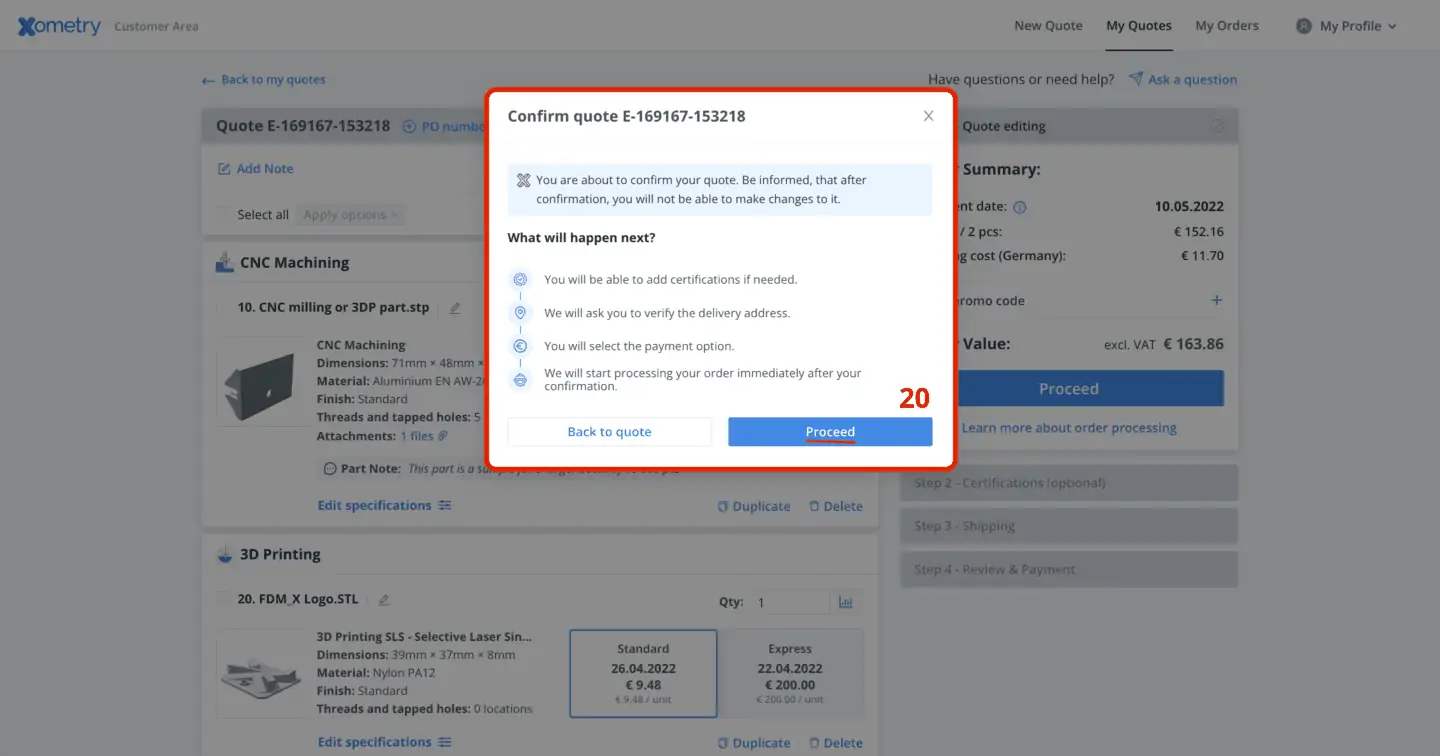 Step 7: Specify certifications
At this step, you can select the needed certifications from the list (21) if you require some. Then, click Next (22).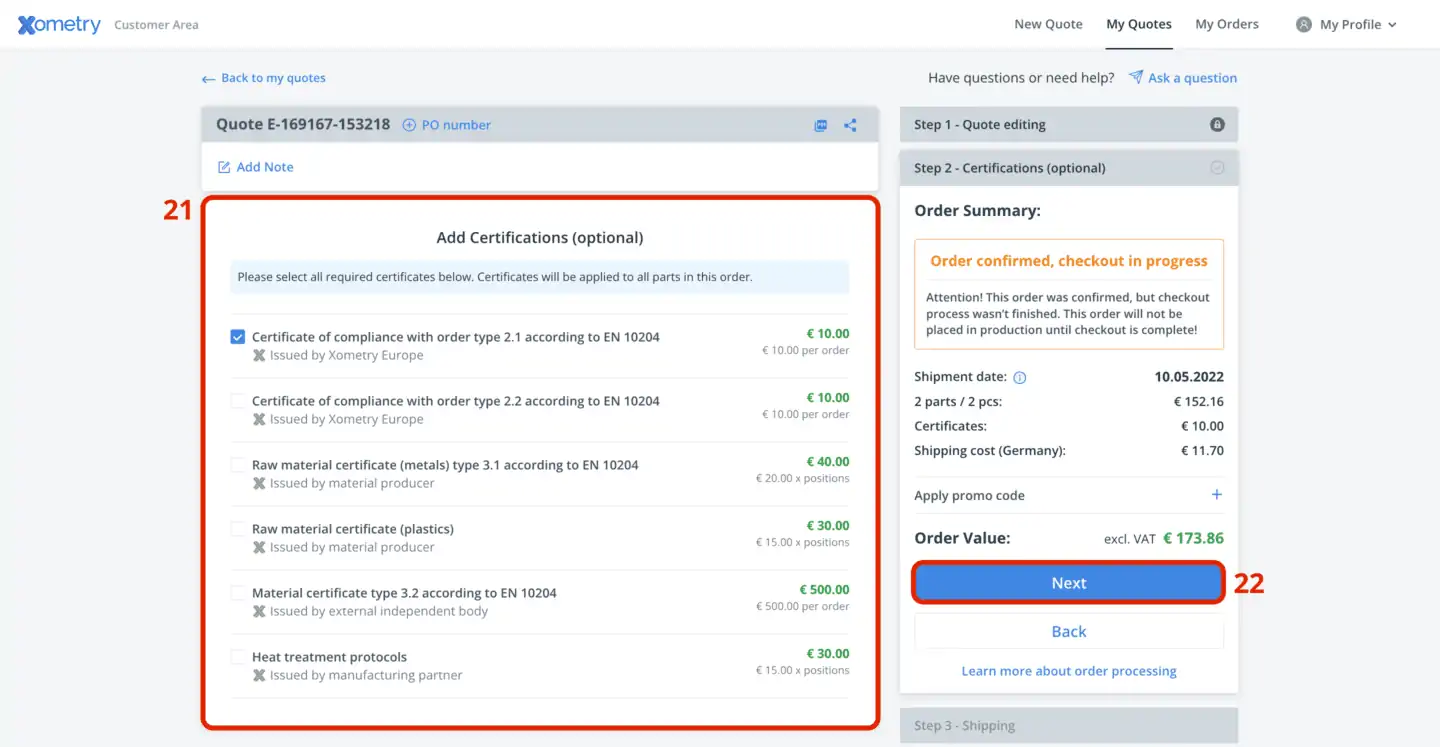 Step 8: Fill in your shipping address
Add your billing details (23) and shipping address (24) to calculate the shipping costs. You can have more than one address if you need it.
Then, click Next (25).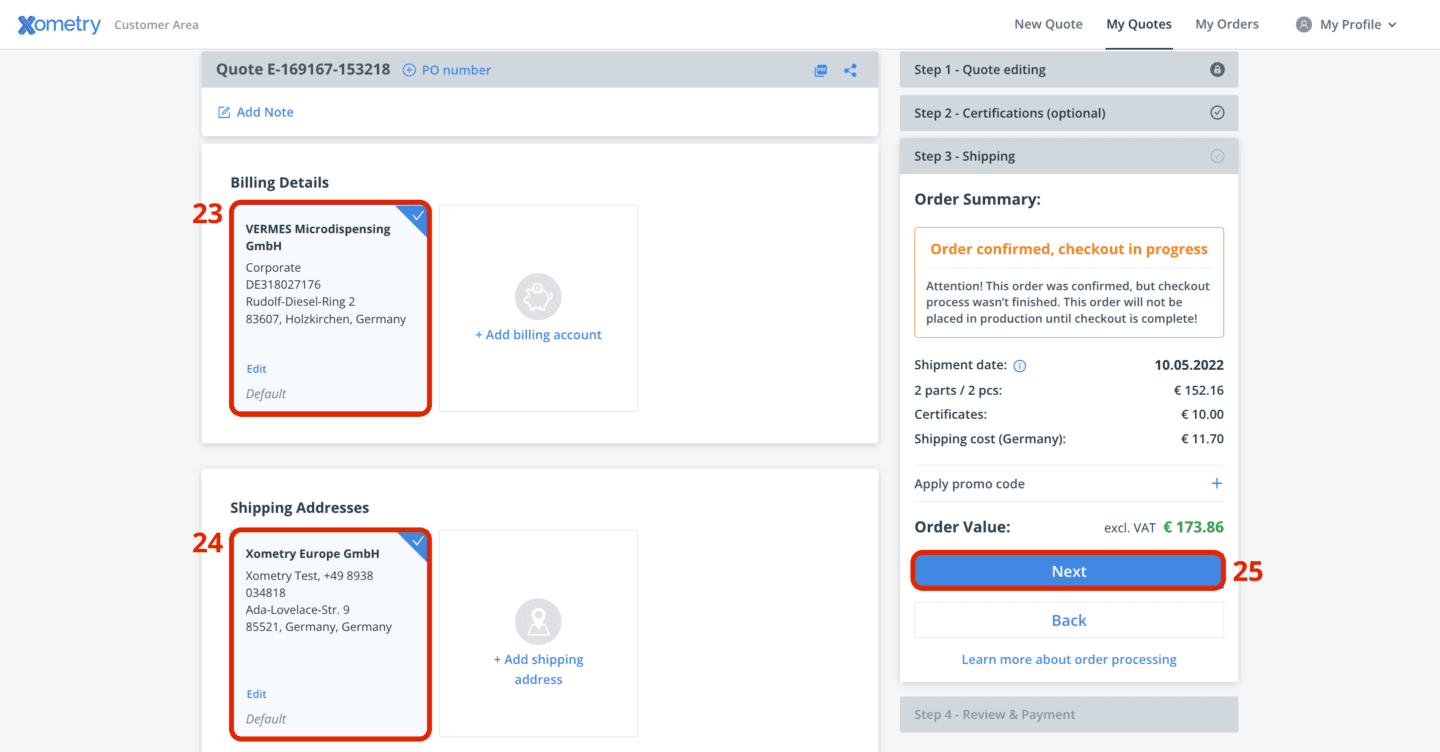 Step 9: Review your order and proceed to payment
After confirming your order and choosing the billing and shipping addresses, you can review your order one more time and download a PDF file (26).
Then, click Proceed to Payment (27).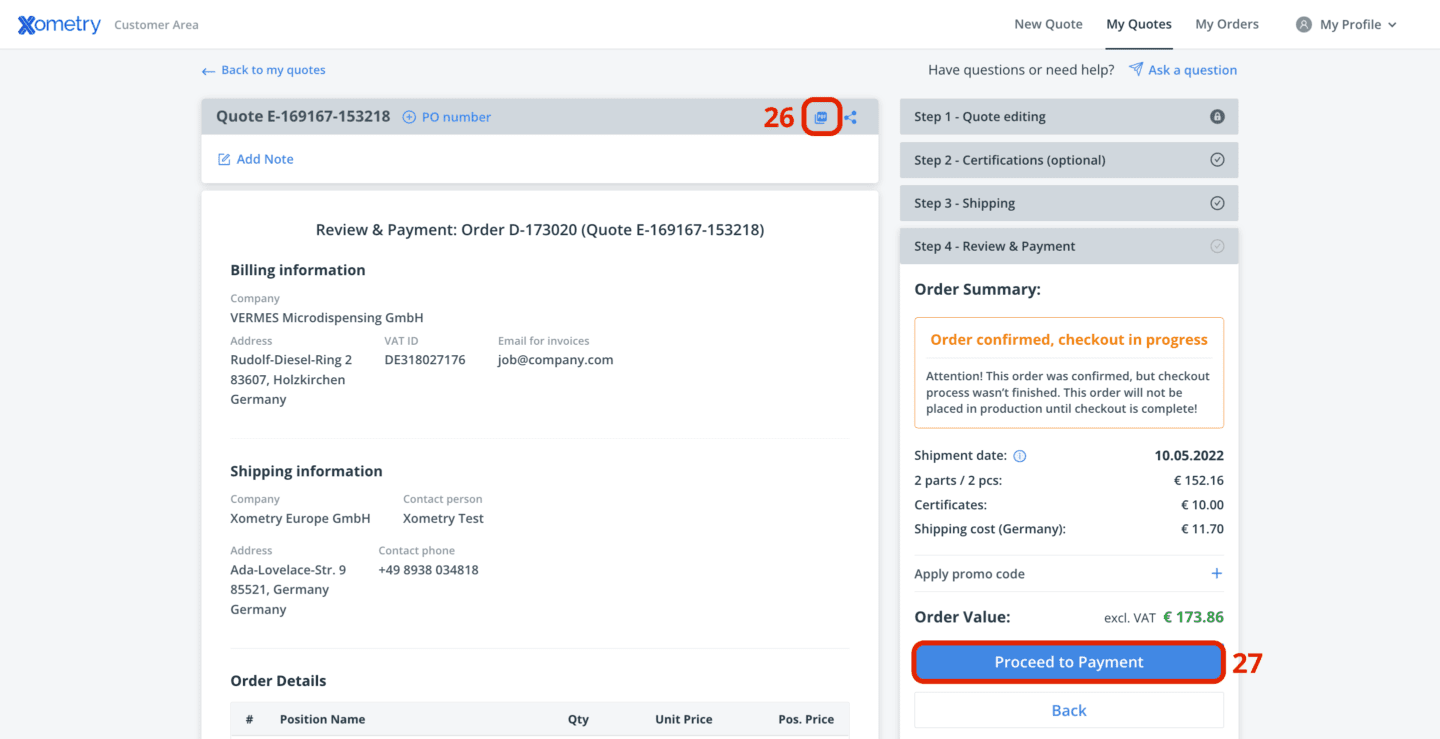 Once you are on the payment page, you can choose amongst multiple payment methods (28): PayPal, bank card, proforma invoice or other country-specific options. Choose the one you prefer and proceed to payment.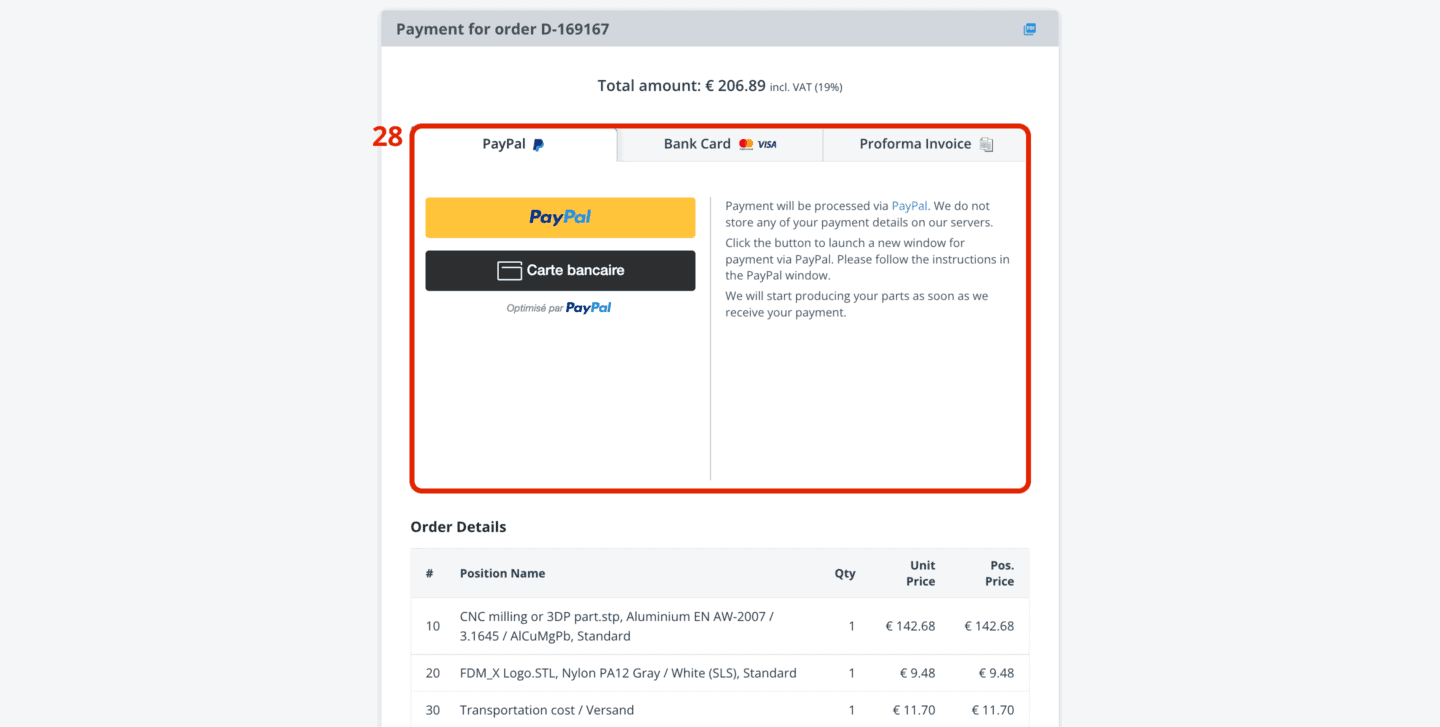 Step 10: Follow your order status online
Your order is placed and being processed now. First, we will conduct a brief manufacturability audit and send you a formal order confirmation. After that, we start the production and you will be able to see your order in the tab My Orders (29).
Click Order Details (30) to check your order's status online at any time.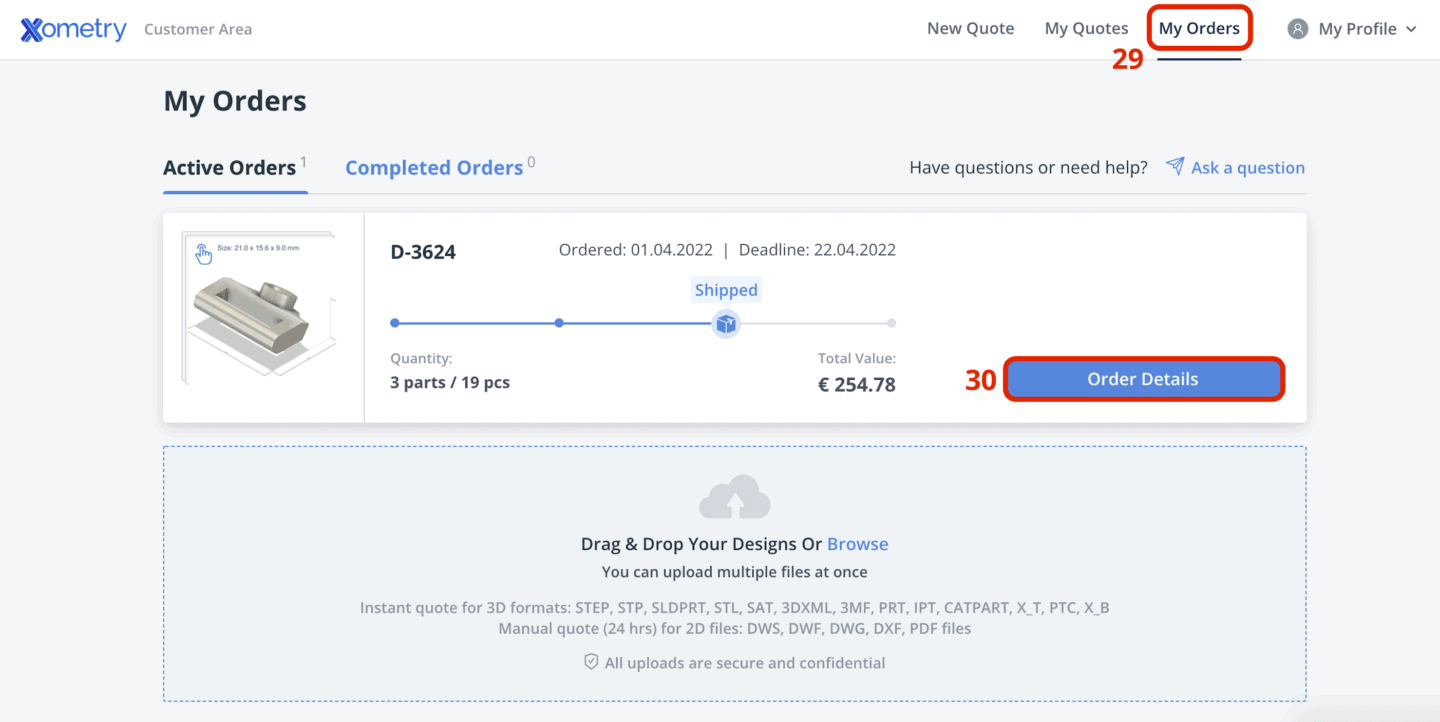 Important on the order page:
You can download the order (31) and the payment confirmations (32)
We will regularly update the status of your project throughout the whole production process (33)
When at least one of your parcels is being sent, you will be able to see the shipment information (34)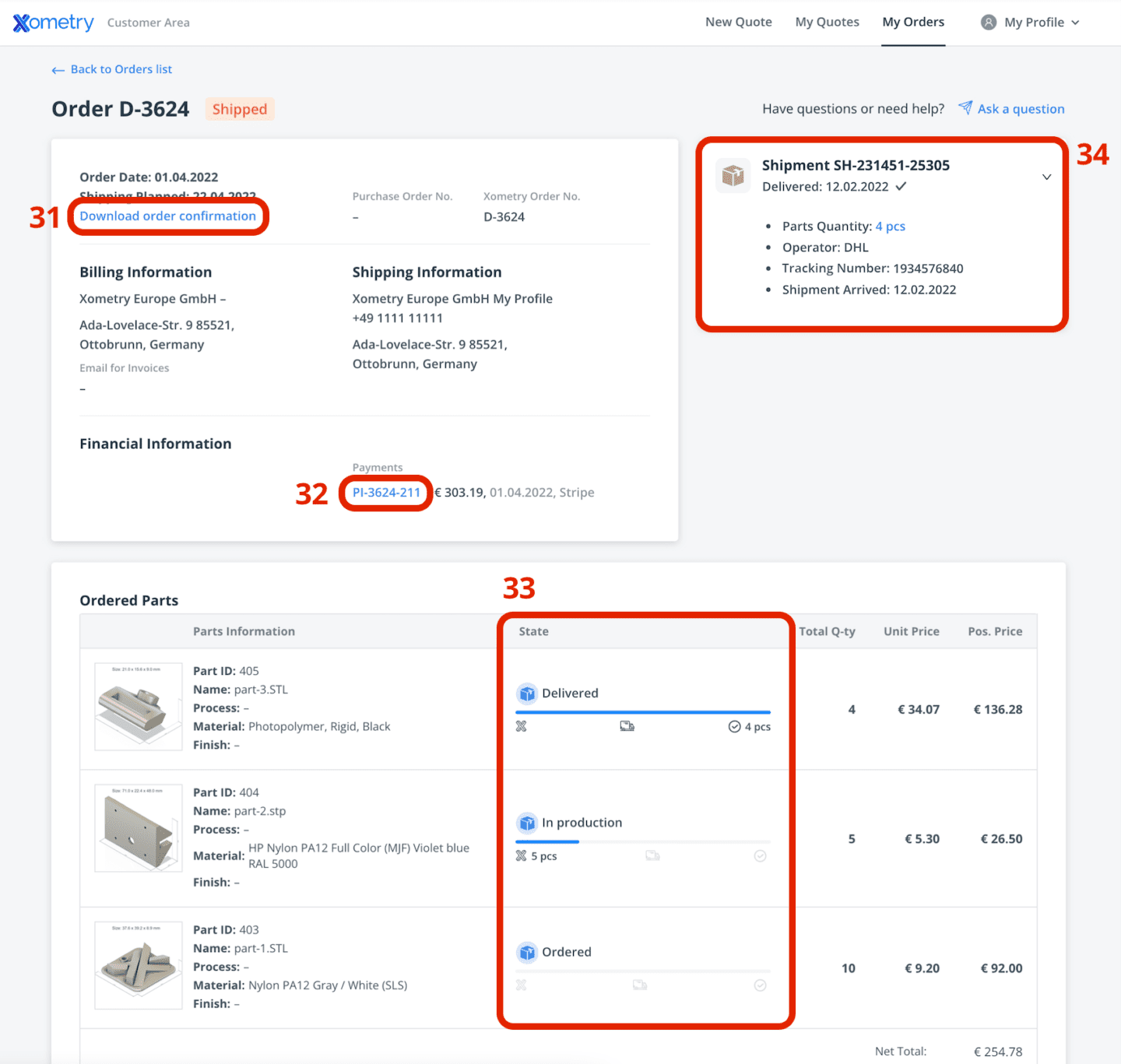 Brief summary: Navigation in the customer area
The Instant Quoting Engine consists of several main pages that you can easily navigate through from the top menu:
New Quote (35), where you can create new quotes by uploading your designs
My Quotes (36), where you access all quotes that you ever created
My Orders (37), where you can access all your active and completed orders
My Profile (38) where you can access your account settings (39), support (40), and switch between languages (41)